Pops Q Tool is as American Made as it gets, so we appreciate the support from USA Love List. They featued us in their ULTIMATE AMERICAN MADE GRILLING SOURCE GUIDE. In addition to highlighting our grilling multi tool, the site highlights a number of excellent American Made Grills - from industry leading Weber to new/reto PK Aluminum Grills.
Big thanks to author Tracey Hanson for including us in this great grill guide. This is what she had to say -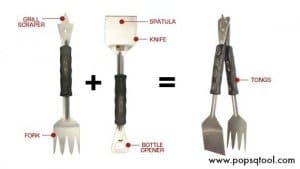 Limit your trips into the house for grilling necessities with the Pops Q Toolultimate grilling tool. Pops Q Tool is a grill scraper, fork, spatula, knife, bottle opener and tongs, all rolled into one easy to cary unit! The Pops Q Tool can even be personalize and makes a great gift.